Finding a dentist in Banbury can be overwhelming with so many to choose from, especially when you want to pick one who you can trust. At Amsel & Wilkins, we offer a wide range of services from general dentistry and orthodontics to cosmetic dentistry. If you're looking for the latest technology and treatments, we have the experience to deliver exceptional dental care.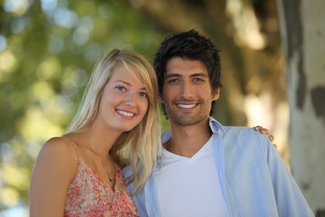 Read on to find out about one of our popular treatments: Dental Implants.
What are they?
If you have one or more missing teeth, you may be feeling embarrassed and lacking in self-esteem. This doesn't need to be the case with the right treatment. Talking to your dentist in Banbury about the options available may result in different solutions; at Amsel & Wilkins, implants offer a discreet and convenient long-term solution.
Implants are titanium screws that are attached to the jaw bone. They act as artificial roots to which replacement teeth can be attached, such as crowns or bridges.
What are the benefits of dental implants?
Dental implants ensure that your replacement teeth are securely fitted, meaning that you can eat and drink whatever you want. You can also brush and floss as normal, that your replacement teeth last a long time – if not, forever! The beauty of dental implants is that they won't be as noticeable as artificial teeth. They will look and feel natural, giving you the confidence to smile with ease. As such, many people prefer them to dentures which can be loose fitting and uncomfortable at times. In fact, even dentures can be attached to implants to prevent movement.
Although dental implants have been around for 30 years, the technology has improved and it is now even possible to have a whole set of teeth replaced in the same day. Your dentist in Banbury can offer treatment with just local anaesthetic in most cases, meaning that you won't have to undergo major surgery for the procedure.
Are there any issues I may need to be aware of?
In some cases, when teeth have been missing, bone recession can occur. This can result in a sunken mouth appearance, which will be rectified when the teeth are replaced. If there is not enough bone to attach the screws to, a bone graft may be required. Your dentist will be able to tell you if this is necessary during the consultation. The good news is, many people are eligible for this course of treatment. Bring on the secure smiles!
What do I need to do next?
If you're looking for a dentist for any area of dental treatments, Amsel & Wilkins are here to help. We look forward to welcoming all of our patients and if you do require dental implants, remember that opting for these will give you a natural looking smile that will last and allow you to eat and drink naturally too. By simply booking in for a consultation, we can look at all your dental needs and help you to get the right treatment for you. There's no reason to put off having a wonderful smile and treating yourself to the look you want.